Categories
Categories
Brands
Brands
Installation Counter Top Water System
Countertop Filter Installation Steps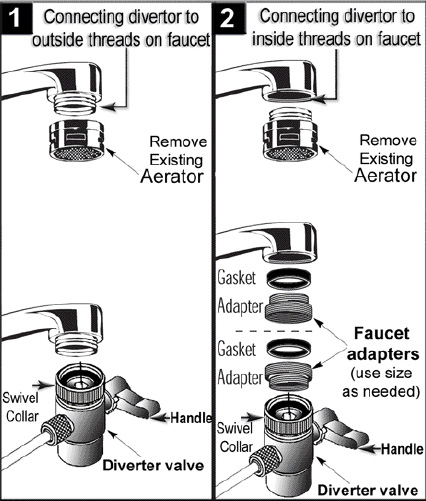 Place filter in a convenient location on the sink where you have enough water line length to attach diverter to a faucet
Remove aerator from faucet where filter will be installed (see Fig.1)
Determine type of thread on your faucet:
Outside Thread: No adapter should be needed (see Fig.1), proceed to step 3.
Inside Thread: Select the correct adapter and washer (included, see Fig.2) and screw into faucet. Tighten by hand.
Note: Adapters are included with each countertop filter which will fit most faucets, excep non-standard and designer faucets. To create a tight seal, you may need to use a gasket from your faucet's aerator in addition to the washers included with the adapters. If the adapters do not fit, consult your local plumbing or hardware supplier for assistance in obtaining the correctly threaded adapters.
Attach diverter valve to a faucet, turning swivel colar to tighten. Make sure that gasket inside diverter is positioined securely between the valve and a faucet. Rotate diverter valve to a desired position. Swivel collar may need to be retightened.
Turn on water, it will go through a faucet as usual. Turn diverter handle or pull diverter knob, this will cause water to go through the filter. To stop water flow through the filter, turn diverter handle off, or turn off water at the faucet.